Creating environmentally friendly POS materials is no longer an option; it is a must. Sustainability is now key when developing POS displays. With Infinity, the first circular standard promotional display, POP Solutions is paving the way for sustainable and green POS marketing.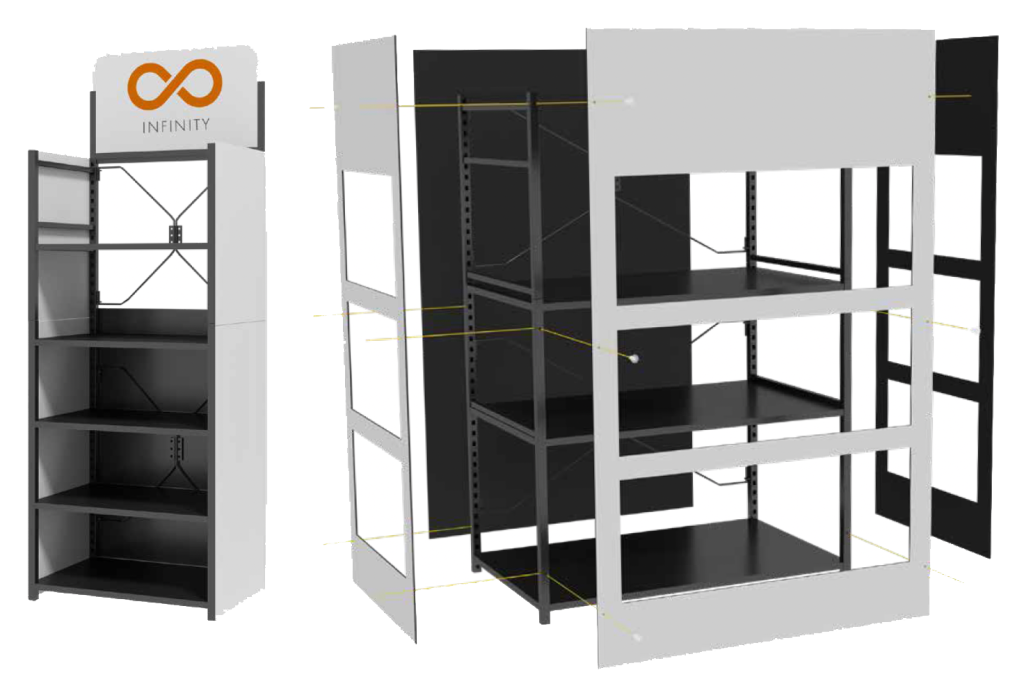 'To infinity and beyond' could be the motto of the new Infinity display. This modular and sustainable unit is 100% recyclable, helping you structure and energise in-store promotional areas in a more responsible manner.
Infinity is 'made in Europe'
Reducing the carbon footprint of POS displays inevitably involves local manufacturing. All the elements that make up Infinity are manufactured and printed in Europe (Belgium, Netherlands, Germany). All stages are carried out at POP Solutions.
A unique and recyclable material
Infinity has a metal structure. As this is an extremely sturdy, sustainable and recyclable material, it can be reused on different sites. It can be assembled, disassembled and reassembled endlessly. Only the POS fittings, which are used to customize displays and transform them into real furniture, will need to be changed depending on the product you want to promote. But here too, POP Solutions makes sure to use materials from renewable sources, such as cardboard or wood, all of which are certified or labeled. Even our adhesives and inks are environmentally friendly.
Made using green energy
Infinity is manufactured in low-energy buildings and the production processes are energy efficient. The little electricity needed is generated on-site by several thousand square meters of solar panels.
Our design team kept sustainable development in mind when creating Infinity, so the range has as little environmental impact as possible, while meeting your needs. But these are just some of the nine reasons to choose Infinity for your POS advertising.
Interested in learning more about Infinity and all it has to offer? Get in touch using the form below.